Screenshots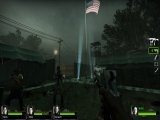 click image for larger view
Name:
Highway to Hell L4D2
Rating:
Author:
Unlawful Combatant
Date Added:
Nov 16, 2011
Download:
Size:

Not Available

Description:
Large urban military map
Review:
11/15/2011
Download

5 map urban and military themed campaign
coop, versus
324 MB zip

"The streets may seem devoid of anything civilized, but make no mistake. The military owns this town and is not going anywhere anytime soon. That being said, the apartment you've been hiding out in is no longer a good place to stay and the military evacs are about to end. It's about time to get going."