Screenshots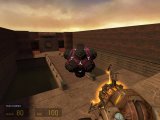 click image for larger view
Name:
ctf_2fort_b7
Rating:
Author:
Kusa
Date Added:
Oct 12, 2006
Download:
Size:

Not Available

Description:
Capture the Flag
Review:
Port from TFC
mp_teamplay "1" for server setting

Objective: Enter the enemy Base and make your way to where their Flag (Combine Roller) resides in the Basement. Grab it and bring it back to your Battlements. Place it on the raised square to Capture it.

Scoring: 10 points per Capture.
The game will end by getting 320 points first or passing 30 min.

Other Notes: Dropped flags return to their Base after 60 seconds.
Once you captured, Turrets in the lower supply will be available for your team.