Screenshots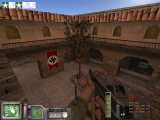 click image for larger view
Name:
dod_alamein_b4
Rating:
Author:
Cpl.Punishment
Date Added:
Oct 01, 2006
Download:
Size:

Not Available

Description:
Small village map
Review:
Small vilage map with market square and train yard.
5 single man flag caps.

From the readme:
"October 23rd 1942. El Alamein, Northern coast of Egypt.
The second battle of El Alamein commences as British forces,
led by General Montgomery, launch a diversionary attack to
draw Rommel's Afrika Korps south of the village. Meanwhile,
a second wave is launched to the north and works furiously
to cut two corridors through extensive minefields and exploit
the gaps as they pushed towards the vital railyard at El Alamein.

"Before Alamein we never had a victory. After Alamein
we never had a defeat.
Winston Churchill
The Hinge of Fate (1951)"

OBJECTIVES
Axis: Capture the flags and stop the allied assault. This town
is crucial in keeping the Afrika Korps supplied with fuel and
munitions from the fatherland.
Allies: Make your way through the minefields and secure the town.
The Australian 9th Division is inbound, and should arrive with
reinforcements in about 3 days."