Screenshots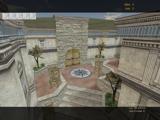 click image for larger view
Name:
de_corruption_cz
Rating:
Author:
kanaeda
Date Added:
Oct 01, 2006
Download:
Size:

Not Available

Description:
Port of css map
Review:
From the readme:
"Terrorists are trying to de-stabilize the local population in hopes of facilitating a political coup.

Counter-Terrorists: Protect the local population by eliminating the terrorist forces and preventing the destruction of key locations

Terrorists: destroy key locations to weaken the local infrastructure."

Can be considered a "fun" style map.